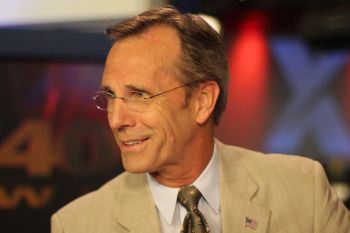 Paul Robins is a successful broadcaster, an avid reader, a slow but devoted runner, and a writer of mystery novels. His morning radio resume includes brief stops in Detroit & Dallas, and a wonderfully long one in Sacramento, California. In TV-land, Paul appeared for several years on The Discovery Channel as one of "The Answer Guys" and is currently seen on PBS's "America's Heartland." He can also be found anchoring the news weekday mornings on KTXL FOX40 in Sacramento. Paul has been married to Bridget Robins for 33 wonderful years and has three lovely daughters, two handsome sons-in-law, and three delightful (and exceptionally smart) grandsons.
Paul is currently polishing up the completed draft of the sequel to "Did Sid?" The first novel is, essentially, the birth of Sacramento's oddest Private Eye. Readers who enjoy it can look forward to soon finding out what Sid Bigler is up to five years later in "Who Does It Hurt?"
Finally—just for fun—feel free to enjoy some free laughs courtesy of Paul's long radio career. The button below will take you to a bunch of amusing little audio tidbits you can enjoy in 60 second bites.